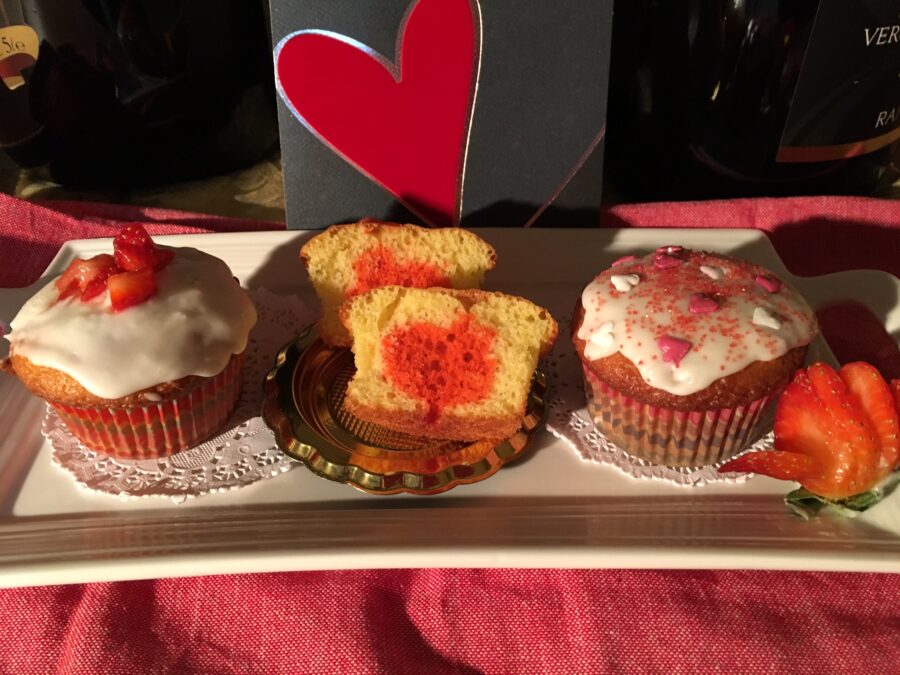 Fun cupcakes filled with a red heart for your loves ones.
Ingredients
1 White cake mix, with ingredients needed on back
2 drops red gel coloring
Small heart cutter
Cupcake liners
Preparation
1. Preheat oven to 350 degrees Fahrenheit.
2. Mix cake batter as directed on box or you can make your own.
3. Take 2 cups of your batter and set in a different bowl and add 2 drops of the red coloring and mix.
4. Set rest of the white batter in a different bowl. Set aside.
5. Grease an 8 inches by 8 inches  cake pan with butter and flour, and pour in red batter. Bake for about 20 to 25 minutes. You will know is ready by inserting a  toothpick that comes out clean.
5. Let it cool completely. Use your heart shape to cut 12 red hearts. Make sure your heart cutter fits inside your muffin liner.
6. Spoon 1 Tablespoon of your white batter on the bottom of your liners. Place gently your heart shaped red cake over batter.
7. Spoon gently 2 tablespoon of your white batter cake over, covering your hearts.
8. Place muffin pan into the middle rack of your oven. Bake for another 20 to 25 minutes until golden brown.
9. Remove from oven. Let it cool completely and cover cupcakes with your favorite icing and macerated strawberries: (cut strawberries in small pieces, add 1/2 lemon juice and two tablespoon of powder sugar. Mix well. Let it macerate for 1/2 hour), and spoon over as you prefer over icing or next to your cupcake., "It's my daughter's favorite".
Happy Valentines from the biggest three love of my life: my Husband and my two beautiful children to all of you. Enjoy!