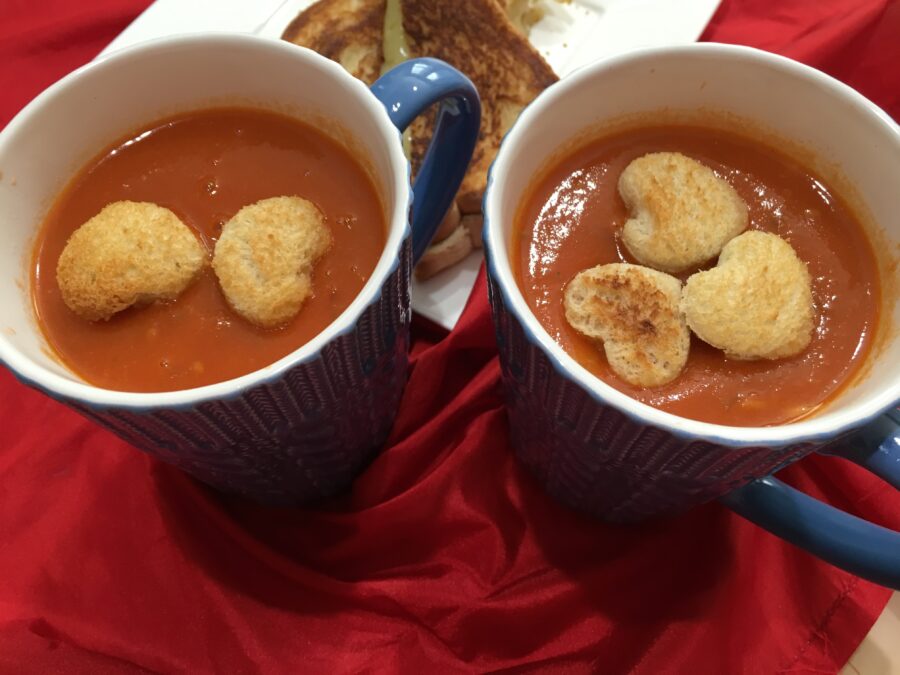 A nutritious, comforting warm to the heart soup made with fresh tomatoes. Creamy with no guilt of heavy cream. Make it special with hearty homemade croutons.
Ingredients
8 tomatoes, diced
1 onion, diced
2 cloves garlic, minced
2 chicken bouillon cubes
3 cups of water
2 Tablespoon olive oil
1 Tablespoon butter
1 16-ounce can tomato juice
1/4 cup fresh basil,chopped
1 teaspoon honey
4 slices white bread
2 bay leaves
1 teaspoon salt
1/2 teaspoon freshly ground pepper
Preparation
1. In a large pot, heat olive oil and sate onions and garlic. Cook until translucent.
2. Add tomatoes, chicken bouillon cubes, bay leaves with 3 cups of water at high heat, until  start boiling.
3. Add tomato sauce, chopped basil and mix all together. Add salt and pepper. Reduce heat to low and simmer for about 30 to 35 minutes; stirring occasionally. Meanwhile, trim bread crusts and  cut heart-shapes with  cookie cutter and place in a baking sheet at 350 grades Fahrenheit for about 5 to 7 minutes until golden brown.
4. Remove heart croutons from oven and set aside.
5. Remove bay leaves from soup. Add the residues of bread left, to the soup and add honey. Stir in butter.
6.  Place soup in batches in blender until smooth.
7. Serve hot and garnish with heart croutons. Delicious next to a grilled cheese sandwich. Enjoy!