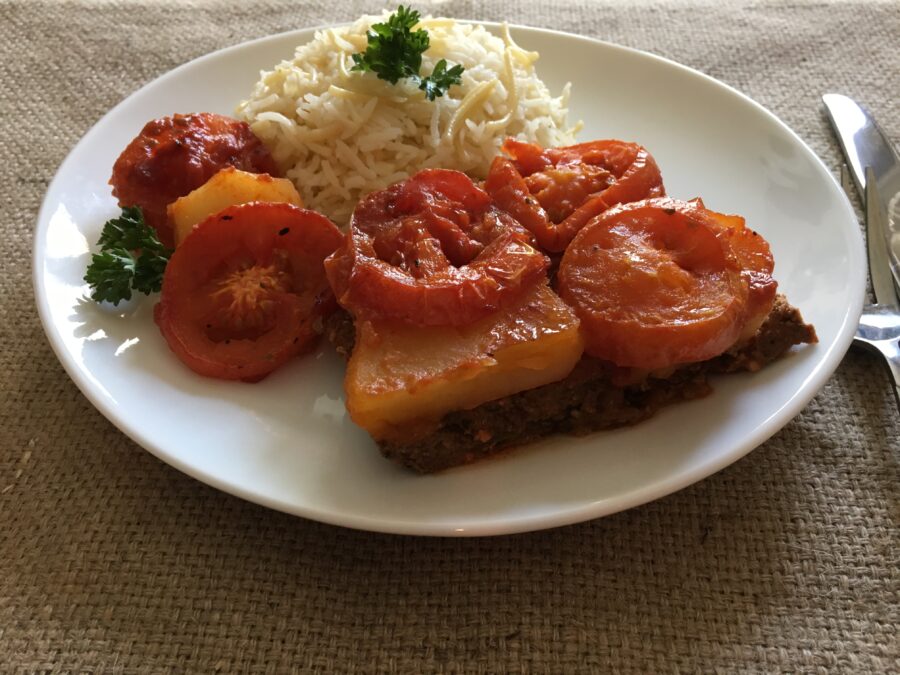 Ingredients
2 pounds lean ground beef
1 1/2 cup parsley, finely chopped
1 large onion, finely chopped
1 tablespoon Ketchup
1 Tablespoon Worcestershire sauce
1 Tablespoon Pomegranate molasses
1 teaspoon cinnamon, ground
1 teaspoon allspice
1 teaspoon nutmeg, ground
1 Tablespoon salt
1 Tablespoon pepper, ground
4 tomatoes, sliced in rounds
4 large potatoes, sliced in rounds
1 ( 4 ounces) can tomato paste mixed in 1 1/2 cup of water
Preparation
Preheat oven to 375 grades Fahrenheit and butter a glass dish. Set aside.
In a big bowl mix ground beef, parsley, onions. Add ketchup, pomegranate molasses, Worcestershire sauce, salt, pepper, cinnamon, allspice, and nutmeg. Mix all until well combined. Transfer meatloaf into the glass baking dish and make it all even.
Layered Potatoes on top of meatloaf.
Placed one sliced tomato on top of each potato sliced. Sprinkle with freshly ground black pepper. (As shown in picture).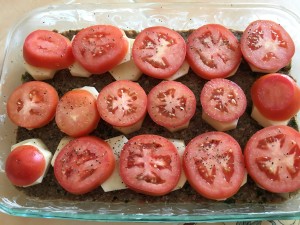 5. Pour over, mixed tomato paste into 1 1/2 cup of water over the entire dish. Bake for about one hour or until juices of beef and tomato sauce have almost reduced, beef is cooked, and potatoes are tender.  Serve next to rice. Enjoy!