A HEALTHY MEAL PLAN, COOK FOR A CROWD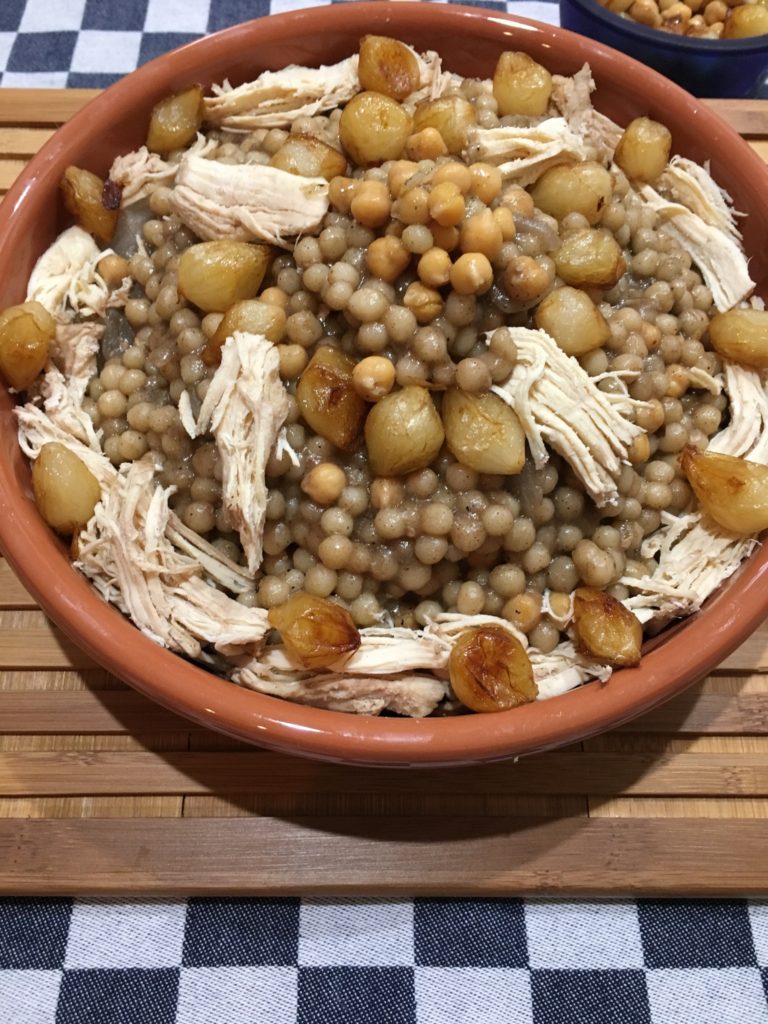 A traditional spiced,  and warm to the heart Lebanese dish  called "Mograbieh"  frequently requested at family and friends get-togethers. My mother passed this recipe down to me. She also offered comments on different ways to prepare it. As she always says to me "you always spin recipes around" So here is my version..
Ingredients
2 Pounds of chicken breast
1 large onion, sliced
1 large carrot, large diced
6 cups of water
1 Pound of Pearl Lebanese Couscous(Mograbieh)
1 Pound Pearl Onions, peeled
2-3 Bay Leaves
1 (8 ounces) can chickpeas, cooked
1 Tablespoon Caraway seeds, ground
1 Tablespoon Seven-spice mix
1 Tablespoon Cinnamon, ground
1 teaspoon Cumin, ground
2 Tablespoon Vegetable Oil
2 Tablespoon Olive Oil
1/2 teaspoon Bergamot, ground
1 teaspoon Sea Salt
1 teaspoon freshly ground black pepper
Preparation
Brown chicken breast pieces into two Tablespoon of vegetable oil in a large pan on both sides. Add sliced onions and carrot. Add 6 cups of water. Incorporate bay leaves, cinnamon, bergamot, seven spices, caraway seeds ground and cumin. Skim foam from the water surface, and simmer bouillon at low heat covered for about 35 to 40 minutes or until chicken is tender.
Meanwhile, caramelized the pearl onions into two Tablespoon of Olive Oil at low heat for about 20 minutes or until golden brown. Set aside pearl onions. Use same large deep pan for later in Step-5.
Remove and transfer chicken to a cutting board to shred or cut in pieces. Strain bouillon from carrot and bay leaves, while onion is O.K. to leave in the pot. Set aside cooked chicken.
Incorporate pearl couscous into the boiling chicken bouillon. Simmer for about 15 to 20 minutes.
Remove couscous from the pot, strain and fry them in pearl onions oil's  pan previously used. Seasoned with salt and pepper. Add gradually 3 to 4 cups of chicken bouillon(broth) over couscous and keep stirring occasionally for about 25 to 30 minutes until couscous is thoroughly  cooked al dente, like a pasta noodle consistency and broth has been reduced and absorbed by couscous.  If you need to add more broth, keep adding liquid until your couscous reached your choice of tenderness.
Meanwhile, keep simmering bouillon at low heat until reduce and thickened. Add chickpeas and caramelized pearl onions to the remaining bouillon(broth).
Remove some chickpeas and caramelized onions from the broth, and pour over couscous.
Place Mograbieh (couscous) into a serving plate. Arrange cooked chicken, and caramelized onions over couscous. Could be served next to the remaining broth sauce. Enjoy!
Note: Mograbieh(Lebanese couscous) freezes very well for several weeks maintaining flavors. Keep chicken pieces and onions in different containers as well in the freezer.