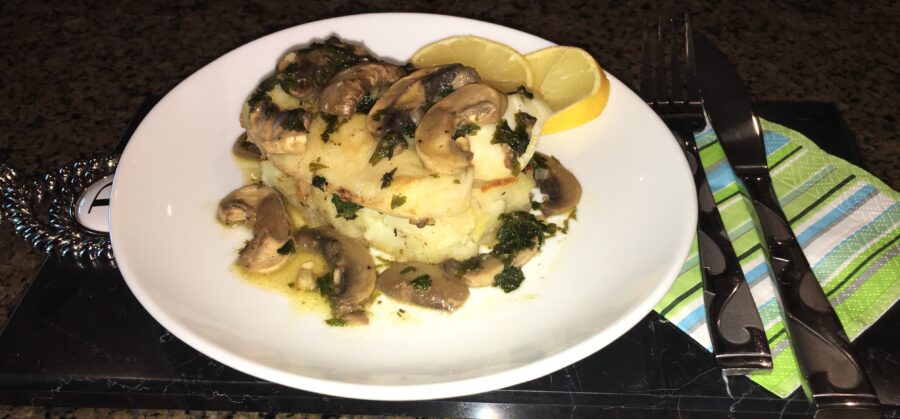 A staple for a light, healthy and delicious dinner with a clean tangy lemony flavor.
Ingredients
4 cods fillets (6 to 8 ounces)
4 Tablespoons lemon juice
2 Tablespoons butter, melted
1 Tablespoon olive oil, extra virgin
1 lemon zest
1 teaspoon ground thyme
1 teaspoon salt
1/2 teaspoon pepper
1 cup white mushroom, sliced
3 Tablespoons parsley, minced
1 garlic clove, mince
Preparation
1. Preheat oven to 400 degrees Fahrenheit. Place cods fillets in a baking dish. Massage your fish fillets with 1/2 Tablespoon of extra virgin olive oil. Add salt, pepper, and ground thyme. Bake for about 20 to 25 minutes till fish is tender and flaky.
2. Meanwhile, sate in a medium size pan over medium heat, the clove of garlic in the rest of 1/2 Tablespoon of olive oil and butter. Add sliced mushrooms and cook till tender.
3. Add minced parsley. Drizzle lemon juice and add lemon zest. Mix all.
4. Remove fish from oven and drizzle over with your delicious lemony, mushroom sauce. Serve fish over mashed potatoes. Enjoy!