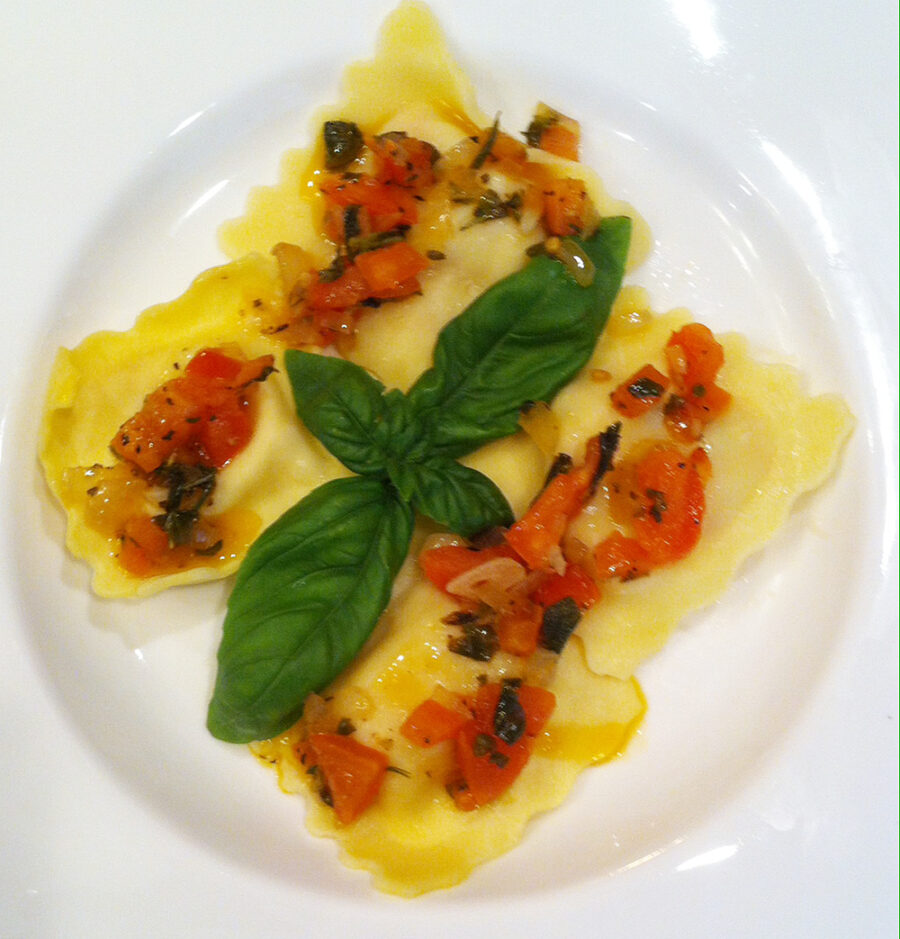 A weeknight delicious and simple recipe in just 20 minutes, especially for busy days. Also great as a starter.
Ingredients
14 Lobster ravioli
2 Cloves garlic, minced
1 Medium yellow onion, diced
1 Teaspoon lemon zest
3 Roma tomatoes, small diced
2 Teaspoon olive oil
2 Teaspoon butter
1/4 Teaspoon sea salt
1/3 Teaspoon freshly ground pepper
1/3 Teaspoon crushed red pepper
4-5 Fresh sage leaves, finely chopped
10 Fresh basil leaves, finely chopped (4 to garnish)
1 Stem fresh thyme
Preparation
1. Heat the butter and olive oil in a large skillet over medium-high heat. Add diced onions and garlic; cook for 2 to 3 minutes until onions have softened.
2. Lower heat. Add diced tomatoes. Stir in lemon zest, salt, pepper, fresh basil, thyme and sage.
3. Let it simmer for 12 to 15 minutes uncovered until sauce is all combined with the aromatic herbs.
4. Meanwhile, over high heat boiled raviolis in salty water. Cook uncovered for about 6 to 7 minutes till tender. Raviolis should rise to water top level.
5. Drain raviolis from water. Fold into the tomato sauce. If sauce is too thick pour over a little pasta cooking water to thin your sauce.
6. Garnish with chopped basil, a drizzle of a good extra virgin olive oil. Ready to serve warm.