A HEALTHY MEAL PLAN, ASIAN DISHES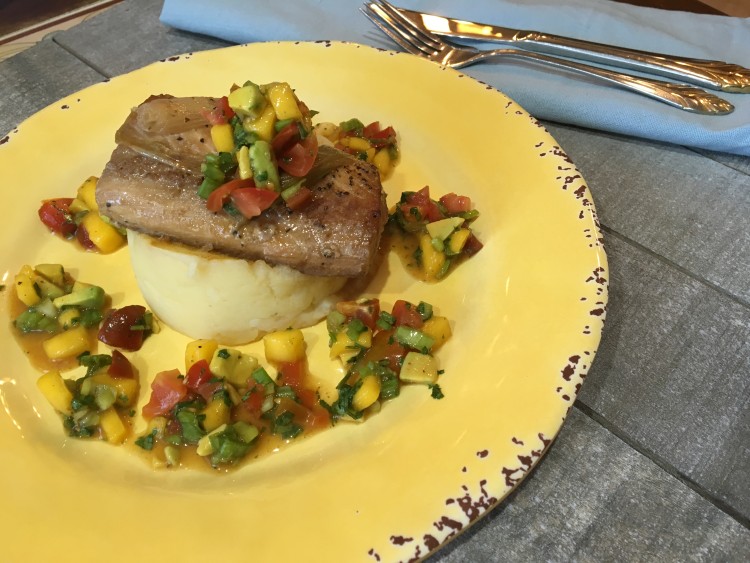 Ingredients for Fish
2 pounds Mahi-Mahi fish fillets, 4-6 ounces
1 Tablespoon olive oil
1 Tablespoon rice vinegar
1 Tablespoon soya sauce
1 teaspoon lemon juice
1 teaspoon honey
1 teaspoon fresh ginger, grated
Fish Preparation:
Whisk together all ingredients in a bowl, and incorporate fish. Place in plastic bag and put into the refrigerator to marinate  for 10 to 15 minutes. Remove from refrigerator and set aside.
Fresh Mango Salsa
2 cups mango, small diced
1/2 cup green onions, finely chopped
2 Tablespoon lemon juice
1 teaspoon lemon zest
1 habanero pepper, finely diced
2 tomatoes, small diced
2 Tablespoon fresh cilantro, chopped
1 teaspoon pepper, ground
1 teaspoon Himalaya pink salt
Directions
Place fillets of mahi-mahi on the grill over medium-hot heat.
Oil the grill and cook fillets for 4 to 5 minutes on each side, until fish is flaky. Remove from grill and brush fillets with rest of marinate.
Serve over a bed of mashed potatoes or next to rice, and topped with a very refreshing  Mango Salsa. Enjoy!