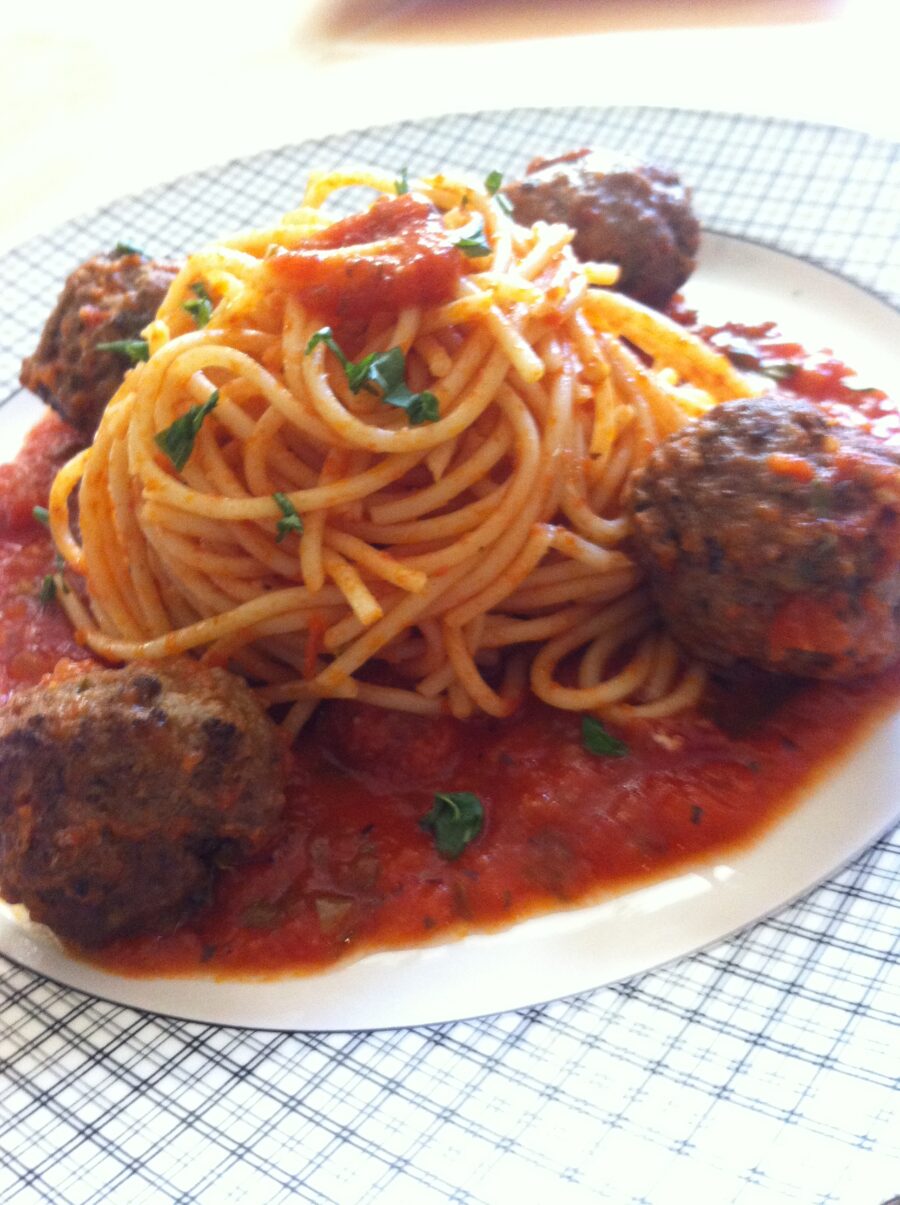 It is our family best tasting spaghetti and most tender meatballs ever. Sharing this family recipe, hoping that it will become one of your favorites too.
Ingredients for Meatballs
2 pounds ground beef
3 slices of sandwich bread, into small cubes
1 egg, beaten
1/3 cup parmesan cheese, grated
Olive oil to brown meatballs
1/2 cup fresh parsley, finely chopped
1 teaspoon fresh oregano
1/2 teaspoon cinnamon, ground
1/2 teaspoon nutmeg, ground
1/2 teaspoon thyme, ground
1 pound spaghetti, cooked according to package directions
Simple Marinara sauce
3 cups of crushed tomatoes
1 large onion, chopped
3 cloves garlic, minced
2 Tablespoon extra virgin olive oil
1 Tablespoon dried oregano
1 Tablespoon dried basil
1 teaspoon salt
1 teaspoon freshly ground black pepper
1/2 teaspoon sugar
1 tablespoon tomato paste
1/2 cup water
Preparation
Combine with your hands ground meat, small cubes of bread, egg, parmesan cheese, salt, pepper, fresh parsley, fresh oregano, cinnamon, nutmeg and thyme. Don't over mix for meatballs to be tender.
Form meat mixture into 2 to 3 inches meatballs.
Heat the oil and place meatballs to brown in all sides over medium heat in batches for about 10 minutes.
Place browned meatballs over paper towels. Set aside.
For the Sauce:
Sate onions in olive oil in same pan over medium heat until soft for about 3 minutes. Add garlic and cook for another  minute.
Add crushed tomatoes, salt, pepper, dried oregano, basil and sugar. (sugar cut a little bit of the acidity of the tomatoes)
Cook sauce for about 20 minutes and add tomato paste dissolve in half cup of water. Place meatballs back into the sauce and lower the heat.
Simmer  covering the pan until meatballs are cooked through for about 20 to 25 minutes. Serve on cooked spaghetti and sprinkle with fresh basil and grated parmesan cheese. Enjoy! Riquisimo.