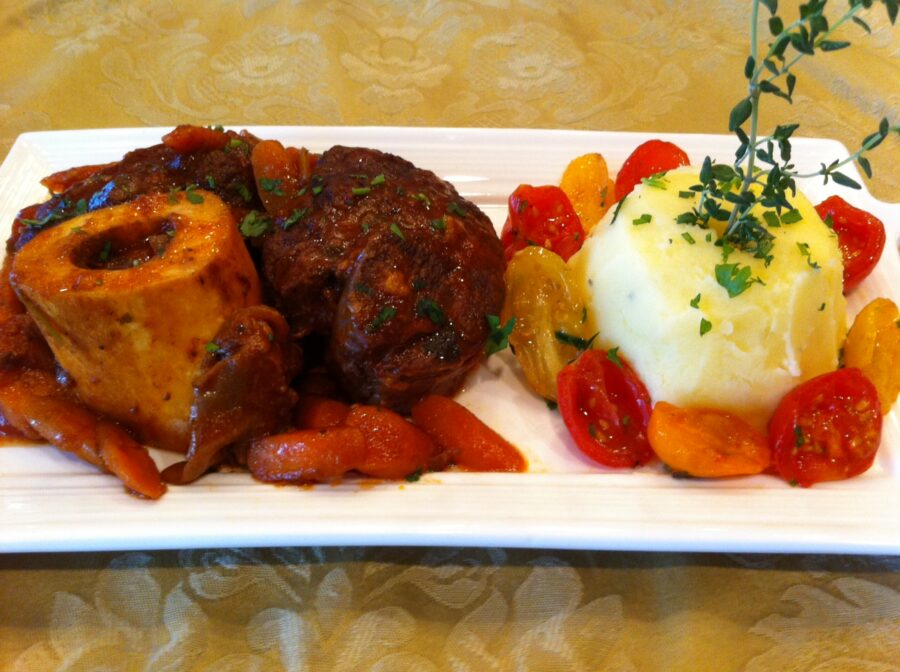 Tender beef shanks and marrow that melt in your mouth. You won't miss the veal chunk that this dish is usually made with. Cooked low and slow. It's gone by my husband in no time. A delicious dish to enjoy with family and friends.
Ingredients
5 bone-in beef shanks (cross-cut)
1 cup flour
3 tablespoon extra virgin olive oil
3 tablespoon butter
1 onion, chopped
1 cup carrots, chopped
4 cloves garlic, finely chopped
2 bay leaves, dried
2 tablespoon fresh Italian parsley, chopped
1 stalk celery, diced
2 cups homemade or store-bought chicken stock
2 1/2 tablespoon tomato paste
1/2 teaspoon cinnamon
1/2 teaspoon thyme
zest of 1 lemon
1/2 of a lemon juice
1 cup of mixed colors cherry tomatoes
1 cup red wine
1 1/2 teaspoon pomegranate molasses
1 cup water, if needed
1 teaspoon Lea & Perris sauce
1/2 teaspoon sea salt
1/2 teaspoon ground black pepper
Preparation
1. Using a paper towel, pat your beef shanks dry.
2. Season beef with salt and pepper. Dredge in flour, shaking any excess.
3. Heat olive oil and butter in a big pot over medium-high heat. Add meat and browned for 2 to 3 minutes on each side.
3. Add chopped carrots, celery, garlic, bay leaves and onions. Season with salt, pepper, thyme and cinnamon.
4. Stir constantly until vegetables are almost tender. Add tomatoes and continue to cook for 7 to 8 minutes.
5. Add wine, Lea & Perris sauce and pomegranate molasses. Let it simmer uncovered for about 10 minutes. Keep turning shanks and add chicken stock till top, covering beef shanks.
6. Add tomato paste dissolved into a cup of water and lemon juice. Lower heat and simmer covered for 2 1/2 to 3 hours, until beef shanks are fork tender and  vegetables are completely cooked.
7. Remove bay leaves. Transfer Osso Buco to a serving dish and pour over and around all juices and vegetables.
8. Garnish with chopped parsley and lemon zest. Serve next to mashed potatoes, creamy polenta or rice.