A HEALTHY MEAL PLAN, ORGANIC BREAD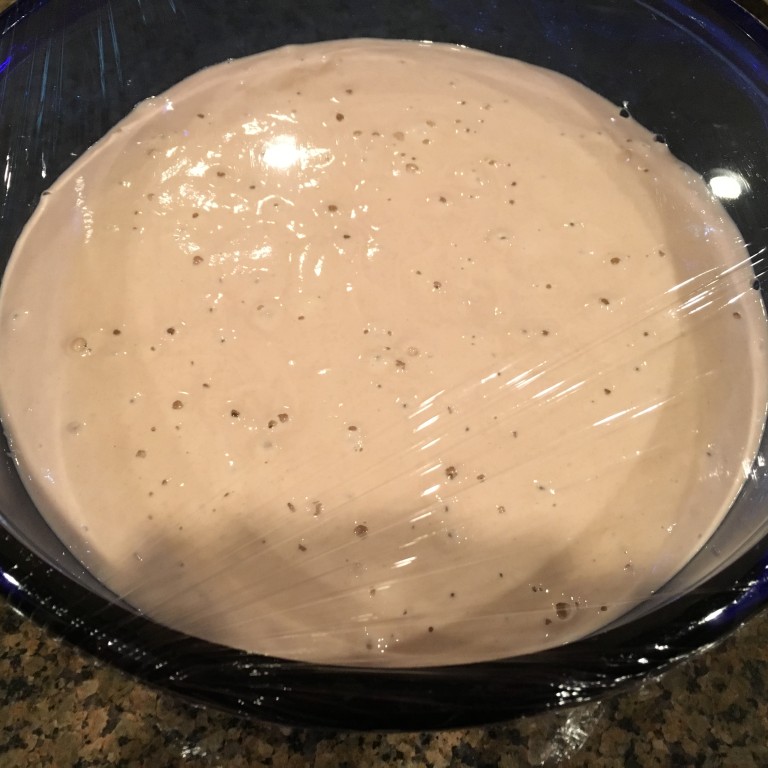 We never thought we could make our own organic yeast, so rewarding when you are able to create with your hands a rustic and delicious bread. Our children can not wait until is out of the oven to enjoy with an Extra Virgin Olive Oil, as we never miss our bread on the table next to all our warm dishes and best Panini Sandwiches.
To create a mother dough(yeast) from scratch, we need to have the living mixture of yeast and good bacteria. This good bacteria will give the flavor to your bread or pizza crust, while the yeast will provide and maintain a long lasting life for your creation of  bread and pizzas. It's like feeding a baby since born ,which you want to see grow. While you keep on feeding your mother dough or starter with organic unbleached flour, the yeast will brake down the sugar from the flour and the water from the fruit used will create the natural process of Fermentation .
Our technique on creating our Sour Dough Yeast from scratch using Organic Champagne White Grapes:
Recipe
1 Pound Organic Champagne white grapes, seedless, unwashed
Filtered Water
Organic Unbleached wheat bread flour(could be white flour, rye, whole wheat "preferably organic")
Mode of Preparation
1. In a clean plastic medium size bowl, put white organic grapes.
2. Crush grapes using your hands, to release the natural sugar juice from the grapes skin.
3. Cover bowl with a clean towel and placed bowl in a dark spot, not exposed to direct sun light at room temperature.
4. Leave grapes without moving the bowl for 3 to 4 days.
5.  On the fifth day, stir grapes all around with a wooden spoon and let them sit for another 9 to 10 days covered.
6.  Mildew and bubbles have created, grapes looked deflated. The smell of a strong vinegar has developed.
7.  Squeeze grapes, strain and you will end having more or less a cup of pure grape juice.
8. Add one cup of unbleached flour to grapes juice. Stir it up thoroughly and transfer to a new covered clean container.
9. Place mother dough in  refrigerator for about 2 days.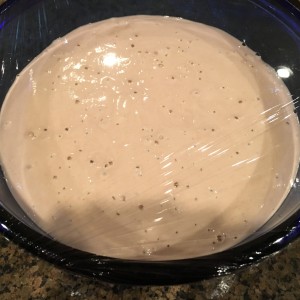 More bubbles will appear and a slightly fruity odor to experienced. Every day for a period of one week feed your mother dough by adding 1 cup of unbleached organic flour and 1/4 cup room temperature filtered water. Continue with same process alternating every 2 to 3 days, same procedure until you have reached the quantity and consistency of the yeast needed.
Remember this, the more you feed it, the most fresh mother dough(starter, yeast) you will have. It will last for many years to come.
Keep it always in refrigerator and place it outside at room temperature for at least two hours before ready to use for making your own rustic and organic sour dough or best pizza crust. Our secret is now shared with you. Enjoy!