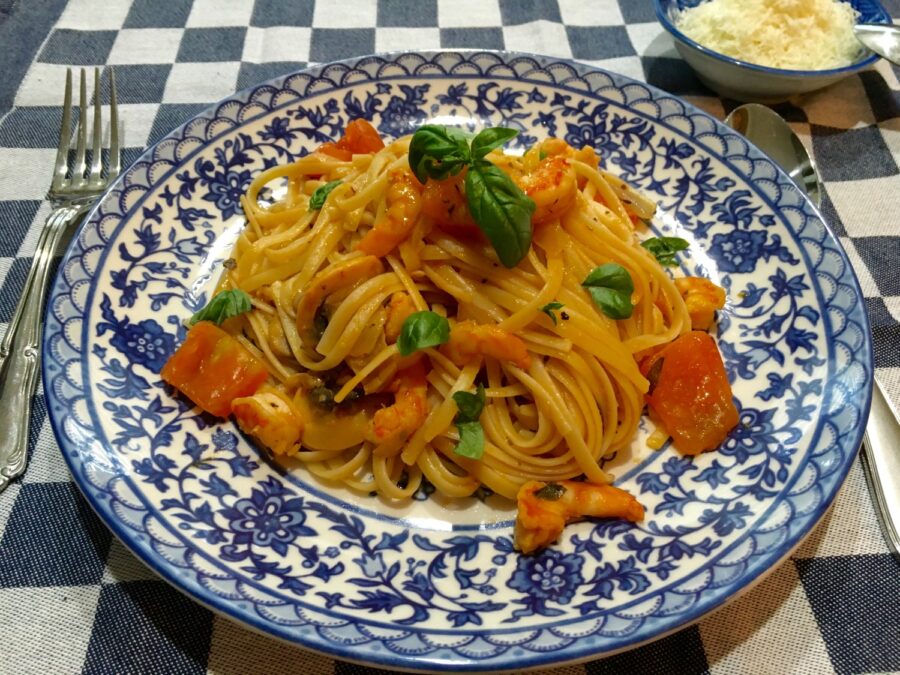 So special and delicious dish made by our son 🙂 Filled with fresh organic aromatic herb flavors. Hope will become one of your pasta favorites. So Yummy!
Ingredients
1/2 Pound raw(cleaned and deveined) or cooked shrimps
12 Ounces Organic Linguini Pasta
1 cup organic white mushrooms
1 cup onions, small diced
1/4 cup extra Virgin Olive Oil
1/2 cup White wine
2 Garlic cloves, sliced
1 cup organic Roma tomato, large diced
1 Tablespoon organic fresh Thyme
1 Tablespoon organic fresh Basil, chopped
1/2 teaspoon salt
1/2 teaspoon pepper
1 Fresh Lemon juice
Zest of 1 lemon
Preparation
Heat Olive Oil in a large skillet. Cook shrimp for about 5 to 7 minutes. Do not overcooked. Just until they become pink. Set aside.
Add garlic, onions to same skillet and sauté till softened for about 2 minutes. Add mushrooms sliced and cook for another 2 to 3 minutes.
Add Tomatoes. Seasoned with salt, pepper. Add thyme and  some of the basil.
Returned cooked shrimps to the skillet and stir together.
Add lemon juice and zest of the lemon.
Incorporate wine and simmer until is all evaporated for about 3 to 4 minutes.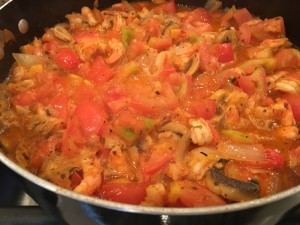 7. Meanwhile cook pasta in salty water according to package instructions.
8. Drain the pasta and add to the sauce. Serve with grated Parmesan Cheese, a  drizzle of Extra Virgin Olive Oil and some basil leaves. Enjoy!