DESSERTS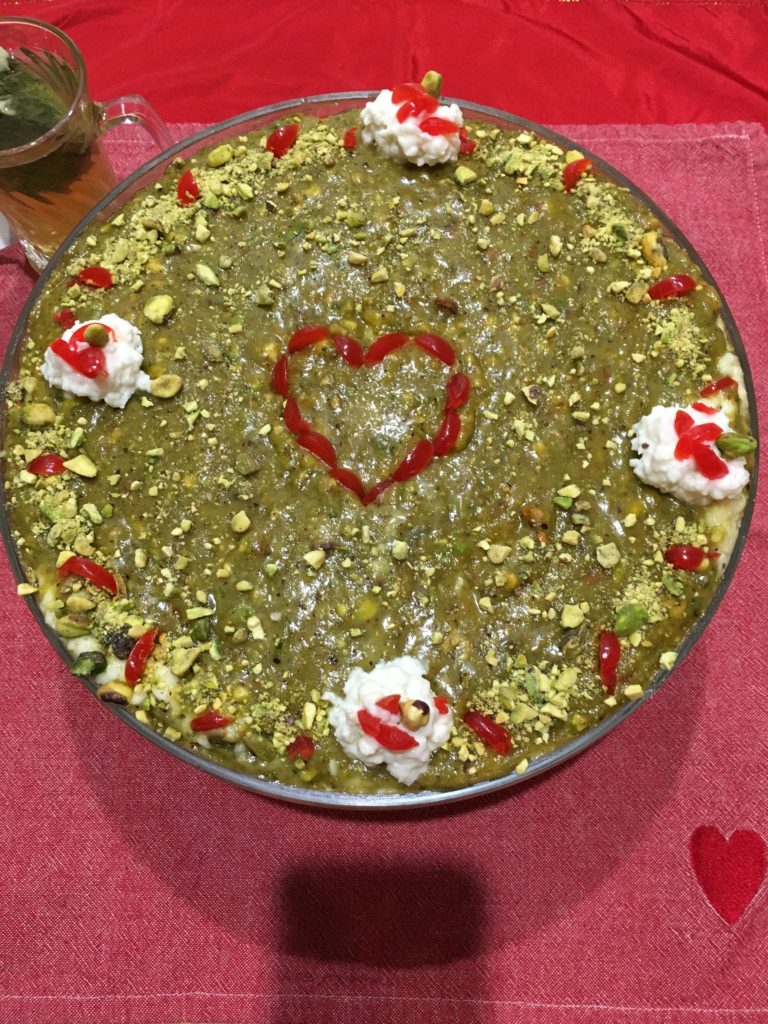 Ingredients for Semolina Pistachio Cake
2 cups Pistachios, unsalted and peeled
3/4 cup semolina flour, fine
3/4 cup granulated sugar
2 Tablespoon butter
2 Tablespoon Rose water(for layering)
Ingredients for Orange Blossom  Syrup
1 cup granulated sugar
1/2 cup water
2 Tablespoon orange blossom water
1 teaspoon lemon juice
Preparing Orange Blossom Syrup
In a medium sauce pan at medium heat, combine sugar, and water. Stir frequently until sugar dissolve completely. Simmer at low for about 5 to 6 minutes until sugar has thickened. Add lemon juice and stir. Remove from heat.
Add orange blossom water.
Set syrup aside.
Preparation for Semolina Pistachio Cake
Place pistachios and sugar in food processor. Process till chopped very fine.(It's ok to leave some pistachios roughly chopped for some texture).
3. Meanwhile, place semolina and butter in a medium size skillet and toast semolina stirring occasionally for about 8 to 10 minutes.
4. Add the orange blossom sugar syrup and combine immediately.
5. Remove from heat. Add this semolina dough over pistachios into the processor. Pulse 3 to 4 times until mixture is moist, and sticky.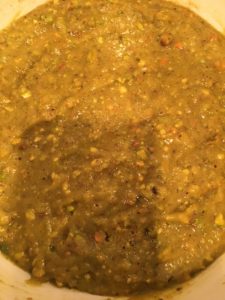 6. Line a removable tart pan 9.5 inches or any mold you like with plastic wrap, long enough in the edges to cover it up and easier to unmold.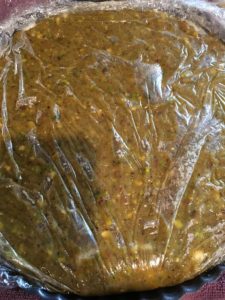 7.  Extend half of the semolina pistachio paste mixture you made earlier by soaking your fingers in rose water to better line your entire mold. Place into refrigerator. Meanwhile prepare your Ashta Cream.*
Ashta Cream Peparation (Cream with Rose and Orange blossoms Water)
In a medium saucepan at medium heat bring 2 cups of milk with two cup of half-and-half to a boil, stirring continuously. Lower heat and add 1/2 cup of heavy cream. Add 2 teaspoon of sugar(optional). Stir well.
Incorporate 1 teaspoon of Rose Water and 1 teaspoon of Orange Blossom.
Keep stirring well with a wooden spoon for about 12 to 15 minutes until start simmering.
Add 2 pieces of bread without crust cut in small pieces. Stir until pieces of bread are almost dissolved and Ashta has thickened.
Remove from heat and set aside to use later.
*Continuing with Assembling
8. Remove Pistachio Semolina paste from the fridge. Place Ashta cream on top of Pistachio paste making a thin even layer.
9. Cover top of Ashta cream with the other half of the semolina pistachio dough by padding gently with rose water to cover the tartlet mold.
10. Fold edges of plastic wrap over. Cover completely.
11. Place mafroukeh  into refrigerator. Unmold and remove plastic  wrap.
12. Decorate with grind pistachios, ashta cream or maraschino cherries.  Enjoy!
Note: It's worth the long process into making this delicious dessert. Also, you can use this semolina pistachio dough for other desserts later by keeping it in the freezer. Also very delicious, use just your ashta cream, sprinkle with pistachios and drizzle with your orange blossom syrup. Let me know if you make it 🙂