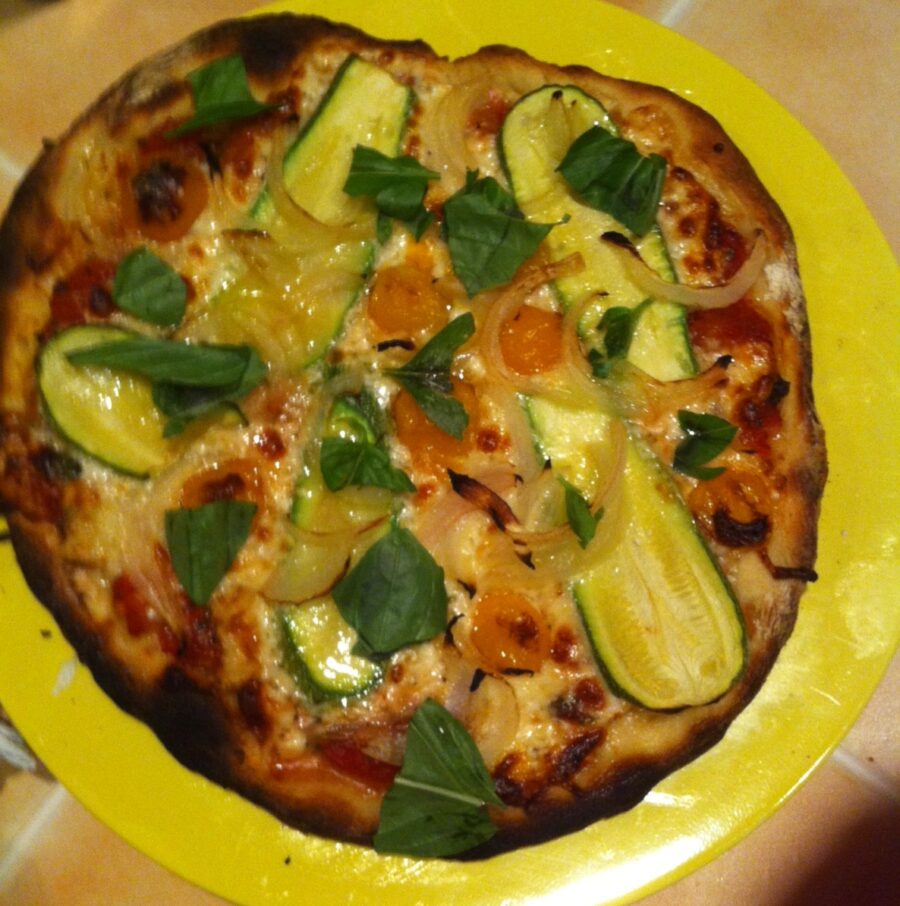 Crispy, perfect thin crust, organic dough topped with fresh grilled organic zucchini, onions, organic yellow cherry tomatoes and basil. Best Pizza ever whether using charcoal or gas grills. The grill will give your pizza the greatest smoky flavor that you cannot get from your regular oven and you will be able to taste a variety of pizzas with different topping instead of over filling yourself with an extra thick one.
Ingredients
4 Cups Organic Unbleached Flour
3/4 Cup of your starter(organic yeast created)
2 1/2 Cup filtered water, room temperature
1/2 teaspoon salt
1 tablespoon extra virgin olive oil
Please see our Organic Yeast creation (Recipe under A Healthy Meal plan page).
Preparation
If your looking for a crispy and extra thin crust, we recommend you to use a pizza stone. For a thicker crust you can place your pizza directly on the grill.
For the Dough:
1. Combine water and organic fresh yeast in a bowl. Let it sit for 10 to 12 minutes, until bubbly.
2. In another bowl, combine flour and salt. Add the yeast and extra virgin olive oil. Mix until flour  is well incorporated with rest of the ingredients.
3. Transfer your dough to a floured surface. Knead it for 4 to 5 minutes and shape into balls.
4. Place the dough into a well greased bowl with olive oil.
5. Cover with a clean towel and place dough into a warm spot in your kitchen to rise for about 2 to 3 hours.
6. Preheat gas grill to 450 degrees Fahrenheit and locate pizza stone over the grill raised up about 3 to 4 inches above.
7. Meanwhile, place dough into a well floured surface and roll out.
8. Transfer dough to a well floured pizza spatula.
9. Place pizza crust over pizza stone. Assemble with topping.
10. Cover the grill and cook pizza for 5 to 6 minutes until edges are crispy and golden brown.
11. Drizzle extra virgin olive oil on top and ready to share.
Enjoy!