A HEALTHY MEAL PLAN, APPETIZERS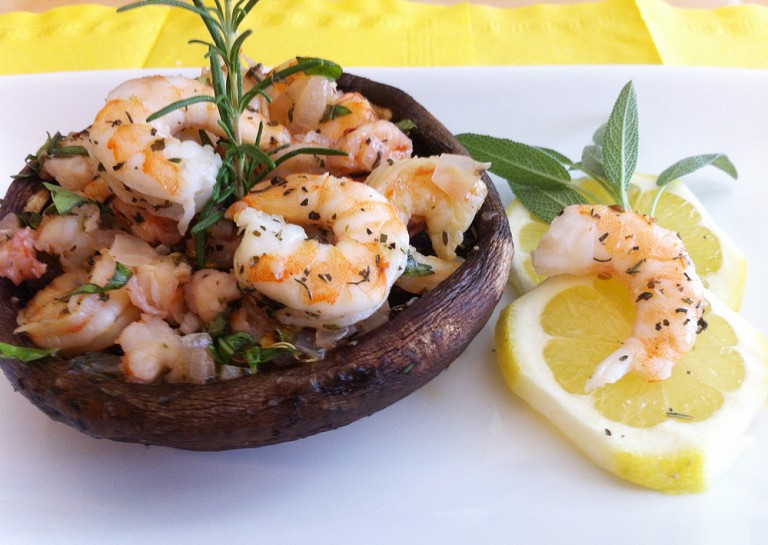 Portobello Mushrooms Stuffed with Shrimp
A devine dish made for beef lovers, without the guilt. The portobello mushrooms melt in your mouth just like the best cut of filet mignon. Great as a starter or for a nice and light lunch.
Ingredients:
5 Large portobello mushrooms
8-10 Ounce cooked shrimp
1/2 Cup chopped shallots
1/4 Cup olive oil
1/3 Cup red wine
2 Cloves garlic, chopped
1/3 Cup Fresh Rosemary, chopped
1/4 Cup fresh basil, chopped
1/4 Teaspoon Herb De Provence
1 Pinch crushed red pepper
1 squeeze of  lemon juice
Salt and pepper
Preparation:
1. Preheat oven to 400°F.
2. Brush mushrooms with olive oil infused with Herbes De Provence.
3. Arrange mushrooms on baking tray stem side down.
4. Roast mushrooms for 5-7 minutes until tender, but still firm.
Filling:
1. In a large skillet heat olive oil over medium-high heat.
2. Saute garlic and shallots until soft.
3. Add cooked shrimp, crushed red pepper, rosemary salt and pepper (to taste), red wine and simmer for 2 minutes.
4. Fill mushroom caps with shrimp mixture.
Serve garnished with chopped basil and a whole shrimp. Drizzle lemon juice over top.
"Buen Apetito"