MEDITERANIAN DISHES, ORGANIC PIZZAS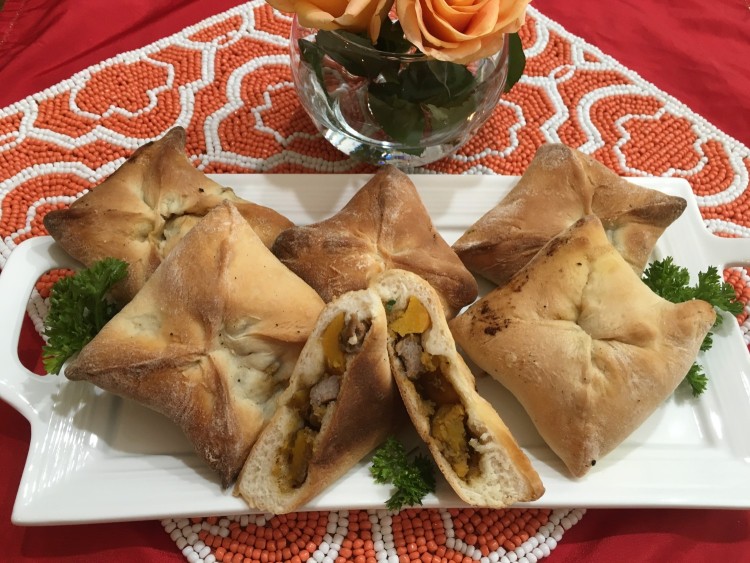 Ingredients for the Dough
4 cups All-purpose flour
3 Tablespoon Olive oil
1 Tablespoon of sugar
1 package of dry active yeast
1 teaspoon salt
1 – 1/2 cups of warm water to touch
Note: I used my Organic Yeast (starter) made at home (Recipe in my site)
Preparation:
Using a stand mixer with the hook fitted, incorporate flour and add dry active yeast dissolve into 1/2 cup of warm water with 1 Tablespoon of sugar. Stir and let yeast to bubble for 5 to 10 minutes.
Use a large bowl and combine flour with salt. Incorporate into the yeast. Add olive oil and at medium speed allow the stand mixer to run until dough starts to come together.
Start by adding 1/2 to 1 cup of warm water slowly to the flour mixture until dough is well combined. Remove from machine and knead over a floured surface for 2 to 3 minutes until dough is elastic and smooth.
Transfer to a bowl greased with olive oil. Cover with plastic wrap and place it into a dry place in your kitchen ( next to warm oven). Let it rise for 2 hours until double in size.
Pumpkin Fatayer (Pie)Filling:
2 Pounds pumpkin, peeled and cut into cubes
1/2 pound of meat, cut into cubes
2 Tablespoon butter
1 yellow onion, diced
1/2 teaspoon cinnamon, ground
1/2 teaspoon nutmeg freshly ground
1 teaspoon salt
1/2 teaspoon pepper
Making Pumpkin Filling:
Sate in a large skillet at medium heat diced onions in butter for about 2 minutes. Add diced fresh uncooked pumpkin. Stir well.
Seasoned with salt, pepper, cinnamon and nutmeg.
Add meat and cook for about 5 to 7 minutes. Don't over cook them as the pumpkin and meat will continue to cook in the oven. Set aside.
Assembling/Baking Pumpkin Fatayer (Pies)
Preheat oven to 375 grades Fahrenheit.
Make dough into small size ball with your hands. Place them over a floured surface. Cover with a dry towel.
Roll each dough size ball using a rolling pin approximately of 4 inches and 1/4 inches of thickness over a floured surface.
Take one full Tablespoon of the pumpkin filling and place it in the center of extended dough leaving the edges clean.
Bring up two sides and pinch dough together. Take other two sides and pinch again joining in the center to close all sides. Repeat process for all pies. 
Place fatayer over a greased sheet pan with vegetable oil.  Bake at 375 grades Fahrenheit for 25 to 30 minutes in the middle rack of oven.
Bake until bottom are golden brown and tops slightly turning brown.
Remove from oven and transfer fatayer (pies) to a metal rack to cool completely. 
Fatayer can be placed in the fridge for about 2 to 4 days or keep in the freezer in an airtight container wrapped in parchment paper. They can last up to a month or more.
Enjoy at any time!