A HEALTHY MEAL PLAN, MEDITERANIAN DISHES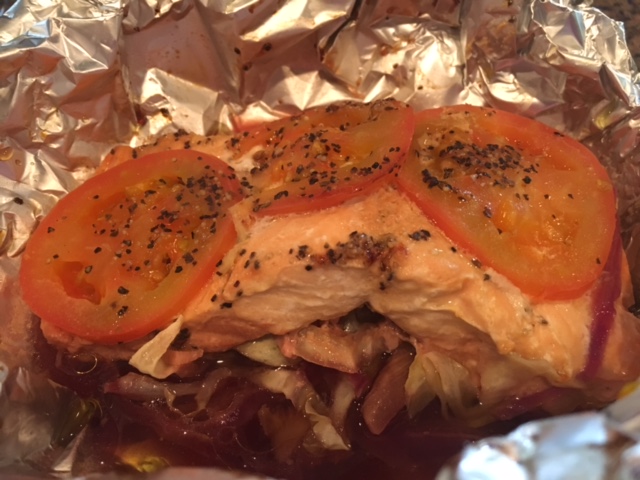 Ingredients
4 -5 (6 ounces) salmon fillets
2 Tablespoon Olive Oil
4 Roma tomatoes (round sliced)
1 cup red cabbage (finely shredded)
1 cup white cabbage (finely shredded)
1 tablespoon apple cider vinegar
2 Tablespoon fresh lemon juice
1 1/2 teaspoon dried oregano
1 teaspoon dried basil
1 teaspoon salt
1 teaspoon freshly ground black pepper
1 teaspoon fresh thyme
Preparation
Preheat oven to 420 grades Fahrenheit.
Drizzle Olive Oil over salmon fillets and sprinkle with salt, pepper, dried oregano, basil and fresh thyme. Add lemon juice and vinegar.
Place shredded red and white cabbage over the bottom of an individual sheet of foil. Place seasoned salmon on top.
Placed sliced tomatoes on top of salmon and drizzle with a little bit of olive oil and sprinkle with black pepper.
Fold the sides of the foil over the fish and tomatoes and seal the packets closed completely.
Place individually wrapped foil over a baking dish.
Bake for about 20 to 25 minutes until salmon is cooked and flaky.
Transfer foiled packets to a dish. Open your foil and enjoy your healthy salmon. Serve warm.