COOK FOR A CROWD, MEDITERANIAN DISHES, MY CHILDREN'S FAVORITES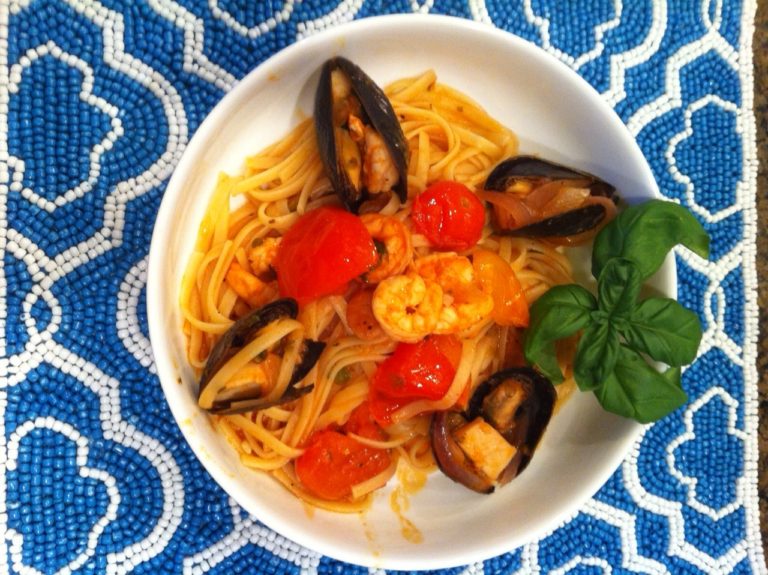 Elegant and pleasant delicious combination of shellfish cooked in a reach red tomato sauce. Our most wanted Sunday family meal.
Ingredients
3 Tablespoon extra virgin olive oil
3 Tablespoon butter
1 Large yellow onion, thinly sliced
3 Large cloves garlic, thinly sliced
3 Pound mixed seafood(baby scallops, shrimps, calamari, and mussels)
1 12 Ounce can tomato sauce
5 Roma tomatoes, cut in large chunks
1/2 Cup red wine
5 to 6 Fresh basil leaves
1/2 Teaspoon oregano, dried
1/4 Teaspoon salt
1/4 Teaspoon freshly ground black pepper
1/4 Teaspoon red crushed pepper
1 Pound fettuccini pasta
1/2 Cup Pecorino Romano cheese, grated
Prepare Pasta
Empty 1 pound fettuccini package into a 4 quarts boiling water with 1 tablespoon of salt. Cook pasta for 6 to 8 minutes (stir occasionally) until is tender. Drain and set aside.
Preparation
1. In a large pan at medium high heat 3 tablespoon of olive oil and butter, till melted.
2. Add onions thinly sliced. Sate onions until translucent and soft.
3. Add garlic thinly sliced. Add all mixed seafood and stir together.
4. Seasoned with salt, pepper, oregano, crushed red pepper and some chopped fresh basil.
5. Add tomato sauce. Let it simmer for 10 to 12 minutes. Lower heat. Add red wine and let it reduce, simmer until seafood is cooked thoroughly  and wine has evaporated for about 15 minutes.
6. Add chunk of tomatoes and cook for another 5 to 7 minutes.
7. Sprinkle sauce with 1/4 cup of Pecorino Romano cheese. Stir and your sauce is reach and creamy.
To thin sauce up, add some water from your cooked pasta.
8. Add drain pasta and mix with sauce. Cook for another two minutes to absorbed all flavors.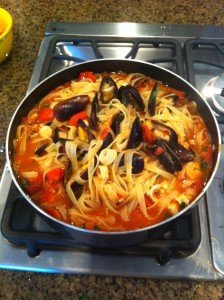 Ready to serve. Sprinkle with grated Pecorino Romano cheese and garnish with thinly sliced fresh basil.