COOK FOR A CROWD, ENTREES, LATIN DISHES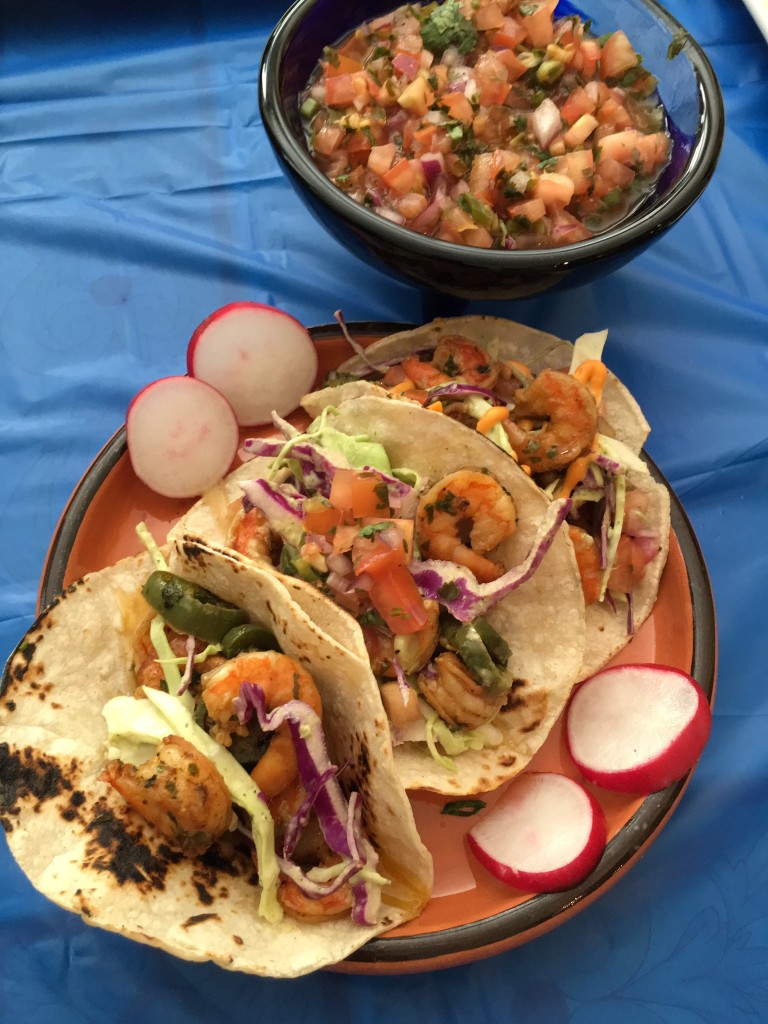 Ingredients
1 pound shrimp, cleaned and deveined
3 garlic cloves, minced
1 jalapeno pepper, diced
2 Tablespoon olive oil
2 Tablespoon lemon juice, fresh
1/2 cup cilantro, chopped
1 teaspoon chili powder
1 teaspoon salt
1 teaspoon black ground pepper
1 teaspoon paprika
Preparation
Set your oven at 375 grades Fahrenheit. Place clean shrimps over a large baking pan. Add jalapenos, garlic, and cilantro.
Drizzle with olive oil. Sprinkle over with salt, pepper, paprika, and chili powder. Pour over lemon juice. Mix all until well combine in an even layer to roast perfectly.
Roast in oven for about 22 to 25 minutes until shrimps have turned pink color and completely cooked.
Remove from oven. Set aside.
Creamy Cilantro-Parsley sauce
1/2 cup cilantro, chopped
1/3 cup parsley
1/2 cup green onions
1/2 cup plain yogurt
1/2 avocado, diced
1 clove garlic
1/3 cup lemon juice
1/3 teaspoon salt
1/3 teaspoon pepper
Sauce Preparation
Place all ingredients except the yogurt in a food processor. Pulse until smooth. Add salt and pepper.
Add yogurt and pulse until all combined.
Set aside.
Homemade Fresh Salsa
1 small jalapeno pepper, small diced
3 tomatoes, seeded and small diced
1 red onion, small diced
1/2 cup green onion, chopped
1/2 teaspoon salt
1/2 teaspoon pepper
1 fresh lemon, juice
1/3 cup fresh cilantro, chopped
For Assembling
6 to 8 corn tortillas, grilled or warm
2 cups red and/or white cabbage, shredded and drizzle with cilantro-parsley sauce.
2 radishes sliced, for garnish
Top with fresh Salsa. Enjoy!