COOK FOR A CROWD, ENTREES, MEDITERANIAN DISHES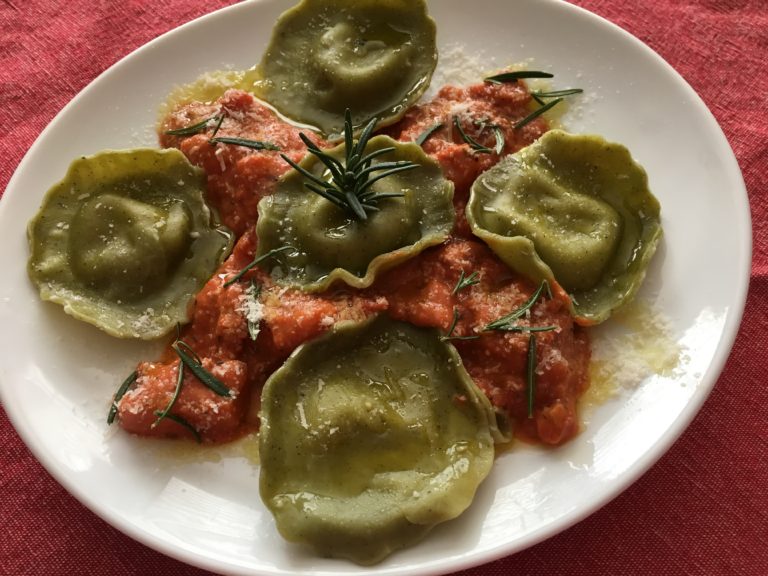 Ingredients
1 package 48 ounces spinach Ravioli (frozen or homemade)
2 Tablespoon Extra Virgin Olive Oil
1 Tablespoon butter
4 garlic cloves, minced
1 onion, diced
2-16 ounces cans natural Organic Tomato Sauce
1 Tablespoon sugar
3/4 cup heavy cream
1 teaspoon oregano, dried
1 teaspoon fresh rosemary, finely chopped
1 teaspoon garlic powder
2 Roma tomatoes, small diced
1 teaspoon salt
1/2 teaspoon freshly ground black pepper
1/2 teaspoon crushed red pepper
1/3 cup parmesan cheese, for garnish
Preparation
Prepare ravioli according to package instructions. Rinse and set aside.
In a large pan on medium heat add extra virgin olive oil and butter. Cook onions and garlic until tender for about 2 minutes.
Add chopped tomatoes. Cook for about 5 more minutes.
Incorporate carefully vodka and when start simmering lower heat and let it reduce until liquor is evaporated for about 5 to 6 minutes.
Add organic tomato sauce, salt, black pepper, garlic powder, dried oregano, fresh rosemary, crushed red pepper and sugar. Cook sauce for about 8 to 10 minutes.
Whisk in heavy cream. Stir and cook until sauce thickened.7. Incorporate cooked Spinach Ravioli into the sauce and serve with a sprinkle of grated parmesan cheese and a drizzle of extra virgin olive oil on top. try it!