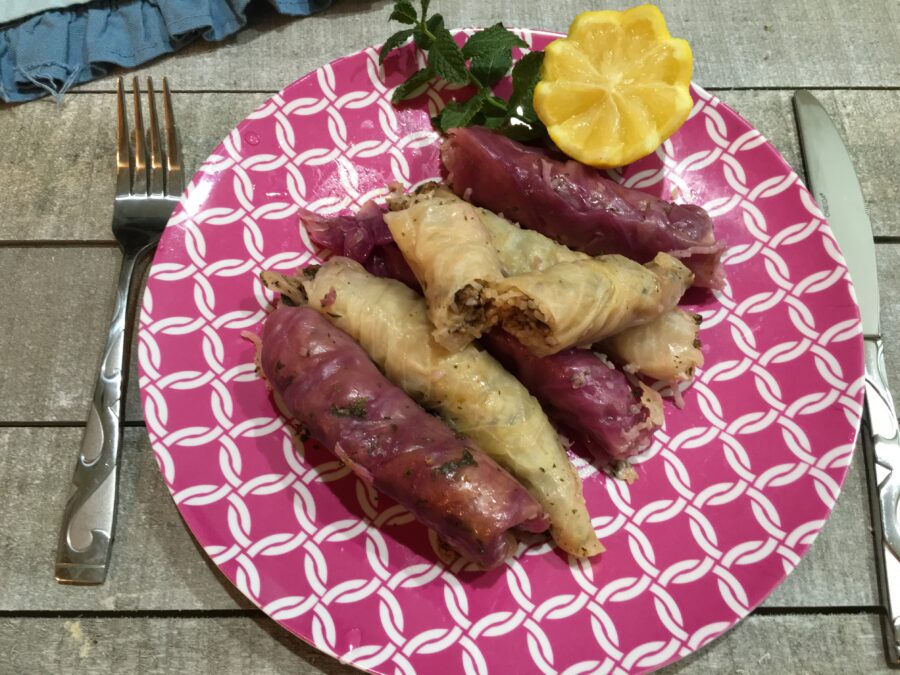 Stuffed Purple or White Cabbage! Yes, you can also fill these beautiful colorful purple leaves that stimulate collagen, rich in vitamin C and with excellent immune-boosting properties over the white cabbage. Try it for next time!
Ingredients
12-15 leaves of cabbage (purple and white)
1 1/2 cup uncooked rice
1 pound ground beef
4 cloves garlic,minced
1 Tablespoon dried mint
1 Tablespoon tomato paste
1/2 cup lemon juice
2 to 3 cups of water
1 teaspoon salt
1 teaspoon black ground pepper
1/2 teaspoon nutmeg
1/2 teaspoon cinnamon, ground
Preparation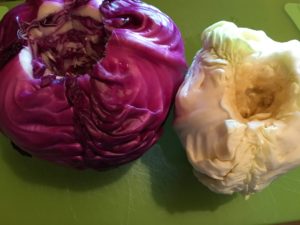 1. Fill a large pot with salted water and bring to boil.
2. Clean out layers of cabbage and cut core out, almost to the bottom. (as shown in picture)
3. Place cabbage into boiling water and cook until fork tender.
4. Remove from water into a strainer. Separate leaves. Set aside.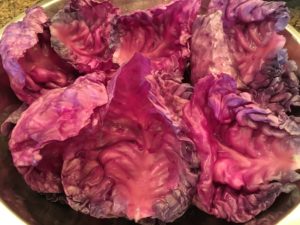 5. Cut each hard center of leaves in a triangle form. Do not discard these triangles. Place them on the bottom of cooking cabbage pot.
6. Sate ground beef in olive oil for 2 to 3 minutes. Add salt, nutmeg, pepper, and cinnamon. Add minced garlic.
7. Incorporate uncooked rice and tomato paste. Mix all ingredients until well combined. Set aside.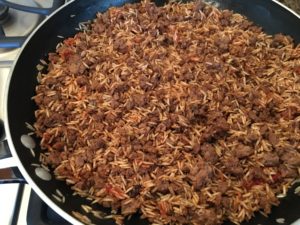 8. Lay cabbage leaf over a cutting board and place about 1 to 2 ounces of the rice-beef mixture into it and roll. Squeeze the rolled cabbage for any excess liquid.
9. Start placing filled cabbage rolls from the outer edge in the pot creating a circle all around.
10. Tuck all filled cabbage leaves till top of the pot.
11. Turn stove on medium-high heat and cook for about 10 to 15 minutes uncovered.
12. Place on top of cabbage rolls, an oven proof plate covering stuffed cabbage leaves. Incorporate lemon juice and dried mint mixed together. Pour water to cover bottom part of the plate.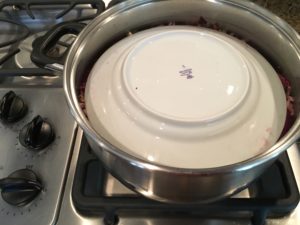 13. Bring to a boil, and lower heat. Cover pot with the lid.
14. Simmer for about 45 minutes to an hour until juices are gone and stuffed cabbages are tender.
15. Let it rest for about 15 to 20 minutes before serving.