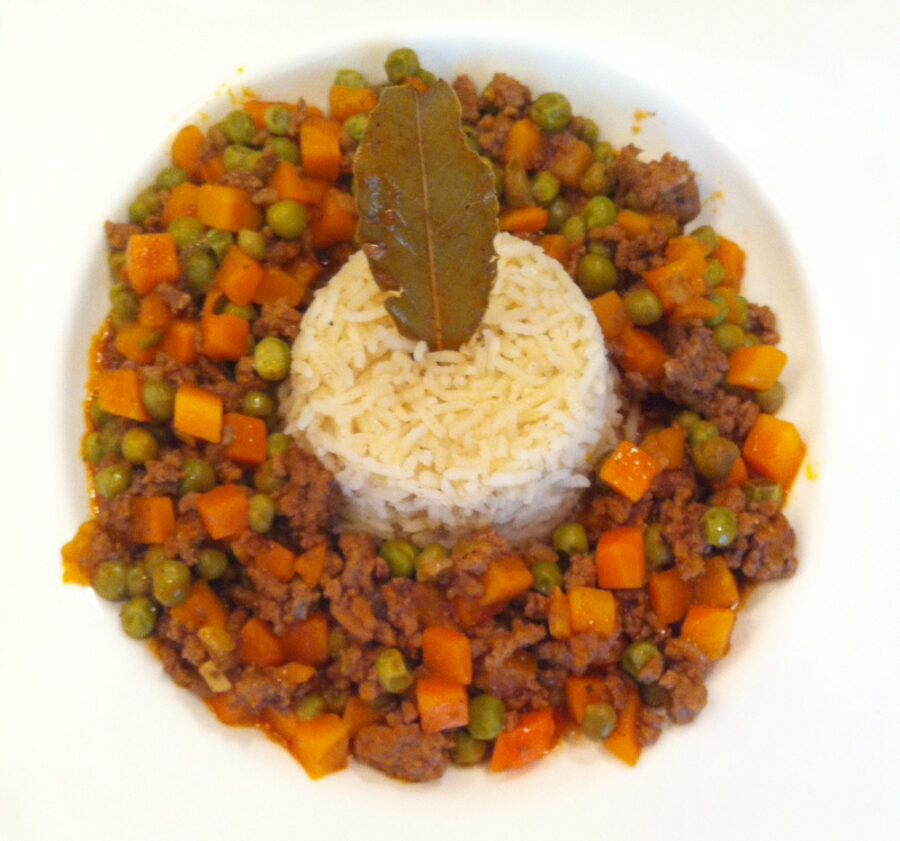 Enjoy this classic and popular Lebanese recipe with a mix of delicious spices that will warm your heart up. When it comes to my husband it's all about stews. It is originally made with meat but you can easily make it a healthy vegetarian dish.
Ingredients
1 Bag 32 ounces frozen peas and carrots
1 Tablespoon olive oil
1 Small onion, finely diced
1 Garlic clove, minced
½ Pound ground beef or pieces
2 Cups vegetarian stock
2 Tablespoon organic tomato paste
Spices
½ Teaspoon ground cinnamon
¼ Teaspoon ground nutmeg
¼ Teaspoon ground thyme
½ Teaspoon ground allspice
1 Bay leaf
1 Teaspoon salt
½ Teaspoon ground black pepper
Basmati Rice
1 Cup basmati rice
2 Cups chicken broth
1 Teaspoon unsalted butter
1 Tablespoon olive oil
¼ Teaspoon cinnamon
¼ Teaspoon nutmeg
¼ Teaspoon salt
¼ Teaspoon pepper
Stew Preparation
1.    In a saucepan heat the butter and oil.
2.    Add onions and garlic, saute for one minute.
3.    Add ground beef and browned till completely cooked and there is no lumps until water from meat has evaporated, for 10 to 15 minutes.
4.    Add cinnamon, nutmeg, allspice, thyme and bay leave and bag of peas with carrots.
5.    Keep stirring until all ingredients are combined.
6.    Bring to a boil and add organic tomato paste dissolve in chicken brot. Reduce heat to low and covered.
7.    Simmer for 30 minutes until sauce thickens and vegetables are cooked through.
Rice Preparation
1.    Heat butter and oil on medium-high heat
2.    Add rice and stir constantly for 1 minute.
3.    Add cinnamon, nutmeg, salt and pepper
4.    Stir together and add chicken broth.
5.    Bring to a boil and reduce heat to low
6.    Cover and let it simmer for 15 minutes until water is evaporated and rice is soft and flaky.
Serve sweet peas-carrots stew next to rice.
"Buen apetito"