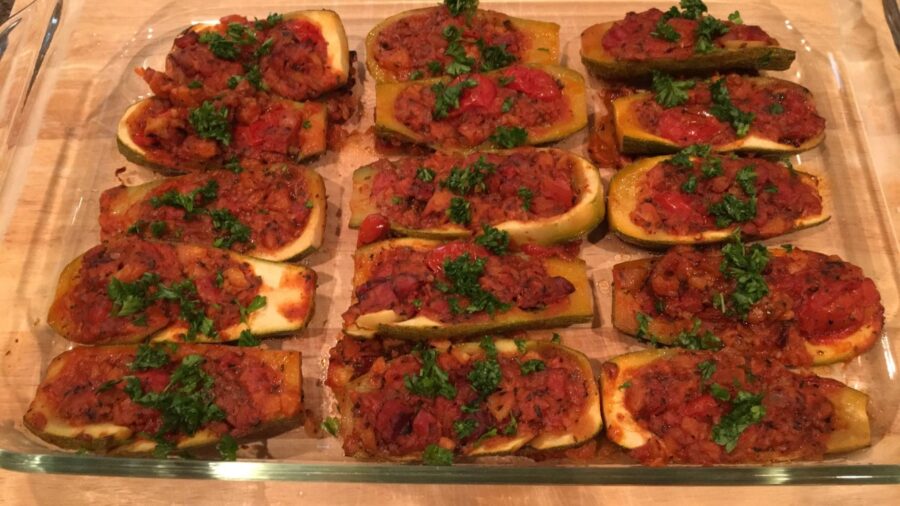 Ingredients
7 to 8 medium zucchini
4 plum tomatoes, small diced
1- 8 ounce can organic tomato sauce
4 cloves garlic, minced
1 onion, small diced
1/2 cup fresh parsley, minced(for garnish)
1 teaspoon oregano, dried
1 teaspoon basil, dried
1 teaspoon thyme, ground
1 teaspoon garlic powder
1 teaspoon salt
1 teaspoon freshly ground black pepper
2 Tablespoon olive oil
Preparation
Preheat oven at 375 grades Fahrenheit.
Meanwhile, cut zucchini in half lengthwise. Use a spoon to scoop out the pulp , leaving about 1/4 inches. of zucchini shell.
Place all clean zucchini boats in a butter greased glass pan.
In a large skillet at medium heat sate center meat removed from zucchini, in olive oil for about 5 to 8 minutes. Add diced onions, and minced garlic. Cook for another 5 minutes till onions are tender.
Incorporate diced tomatoes. Seasoned with salt, pepper, oregano, basil, thyme and garlic powder. Add tomato sauce. Stir and combine all ingredients.
Simmer for about 15 to 20 minutes at low heat until juices from vegetables and sauce have reduced. Set aside.
Fill each zucchini boat with sauce. Cover glass pan with aluminum foil and bake for 30 to 35 minutes or until zucchini shells are fork tender.
Remove from oven and sprinkle zucchini tops with fresh chopped parsley. Enjoy!