MEDITERANIAN DISHES, WARM TO THE HEART STEWS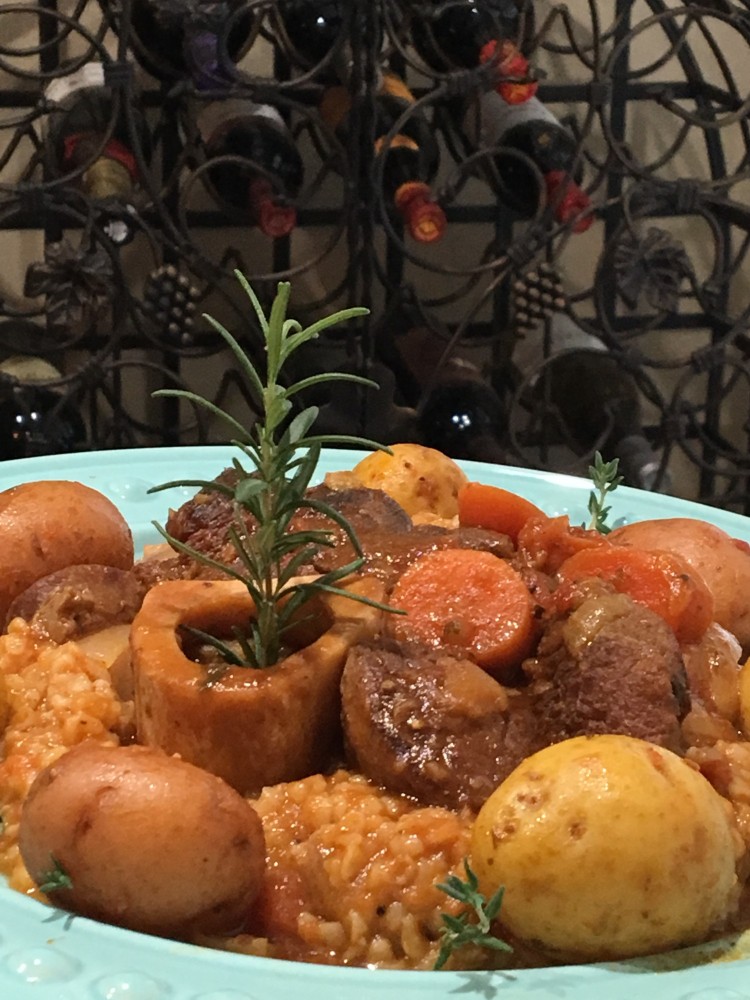 You want to show Dad that you love him. Make him this delicious dinner. Comforting, tender, juicy and super delicious meat, so hard to resist!
Ingredients:
4 veal shank, 3 to 4 inches thick (center cut)
2 carrots, cut in rounds
1 yellow onion, small diced
5 garlic cloves, chopped
2 sprigs, rosemary
1 sprig, thyme
1 teaspoon thyme, ground
1 bay leave, dried
4 to 5 cups vegetable stock
1- 8 ounces can, tomato sauce
1 cup white or red wine
2 Tablespoon Olive Oil
1 Lemon zest
1 teaspoon salt
1 teaspoon pepper
1 sprig rosemary, finely chopped (for garnish)
1 sprig thyme, finely chopped (for garnish)
2 Tablespoon flour
Bulgur (see recipe on my site)
Make a Simple Gremolata:
Grating zest of a lemon or orange and mincing parley and garlic. Add salt. Mix and Sprinkle over cooked ready to serve Osso Buco.
Preparation
Season veal shanks with salt, pepper and ground thyme.
Dust veal with flour and pan-sear until golden brown.
Use a large skillet and sate onions, carrots, garlic in olive oil at medium heat until slightly soft (translucent).
Placed veal shanks over vegetables and add vegetable broth and wine. Stir in tomato sauce. Let it simmer for about 20 minutes and lower heat.
Add fresh thyme and rosemary sprigs and bay leave.
Cook for at least 2 hours with lid on, until veal is fork tender and have absorbed all flavors.
Remove bay leave.
Serve oso bucco with reduced sauce of vegetables. Garnish  with lemon zest, fresh rosemary, and thyme over a bed of  Delicious Wheat Bulgur and Baby potatoes. (see recipe on my site) . Sprinkle with Gremolata. Buen Apetito!