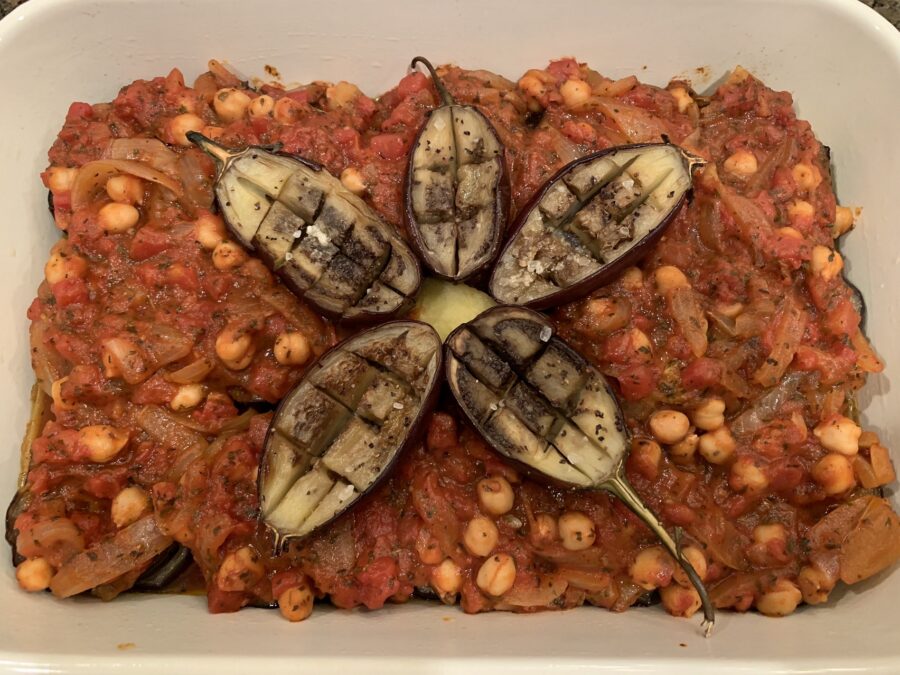 Vegetarian Eggplant with Chick Peas (Lebanese Moussaka)
Made of roasted eggplants (not fried) with garbanzo beans or chick peas cooked in a very delicious and rich tomato sauce. A vegetarian but very tasty dish. Enjoy!
Ingredients
4 Large eggplants (not peeled completely)cut in rounds
1 12 ounce can chickpeas
1 12 ounce can organic diced tomatoes
1 Extra large onion, cut into long slices
2 Tablespoon tomato paste, dissolved in a cup with water
2 Tablespoon extra virgin olive oil
1 Teaspoon cinnamon
1 Teaspoon salt
1 Teaspoon pepper
1 Tablespoon dried cut mint
Preparation
1.    Lay eggplants into a glass baking dish, cut in long thick
slices 2-3 inches or into disks. Drizzle with olive oil.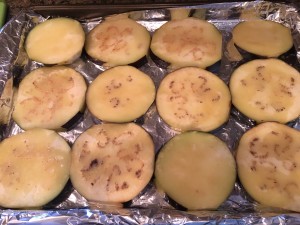 2.    Sprinkle with salt and pepper
3.    Roast for 30-35 minutes at 375° Fahrenheit  oven till golden brown and soft.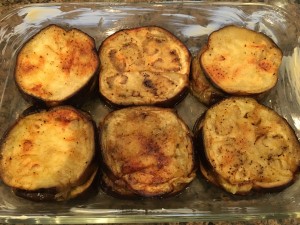 Sauce
1.  In a sauce pot on medium-high heat, saute onions in olive oil till soft and clear.
2. Add diced tomatoes, salt, pepper, and cinnamon. Let it simmer for 10 minutes.
3. Add chickpeas and tomato paste. Let it simmer for another 20 minutes.
4. Add cut dried mint to the sauce. (At the end is better, mint won't get black)
5. Remove sauce from heat. Set aside.
6. Pour sauce over layer of eggplants in a glass dish.
7. Put back at 375°f oven for 20 minutes cover with foil paper to absorb tomato sauce.
8. Remove from oven and let it cool. Best served cold or at room temperature.
Note: You can always add a little bit of pomegranate molasses for a tangy-rich sauce.