APPETIZERS, ENTREES, LATIN DISHES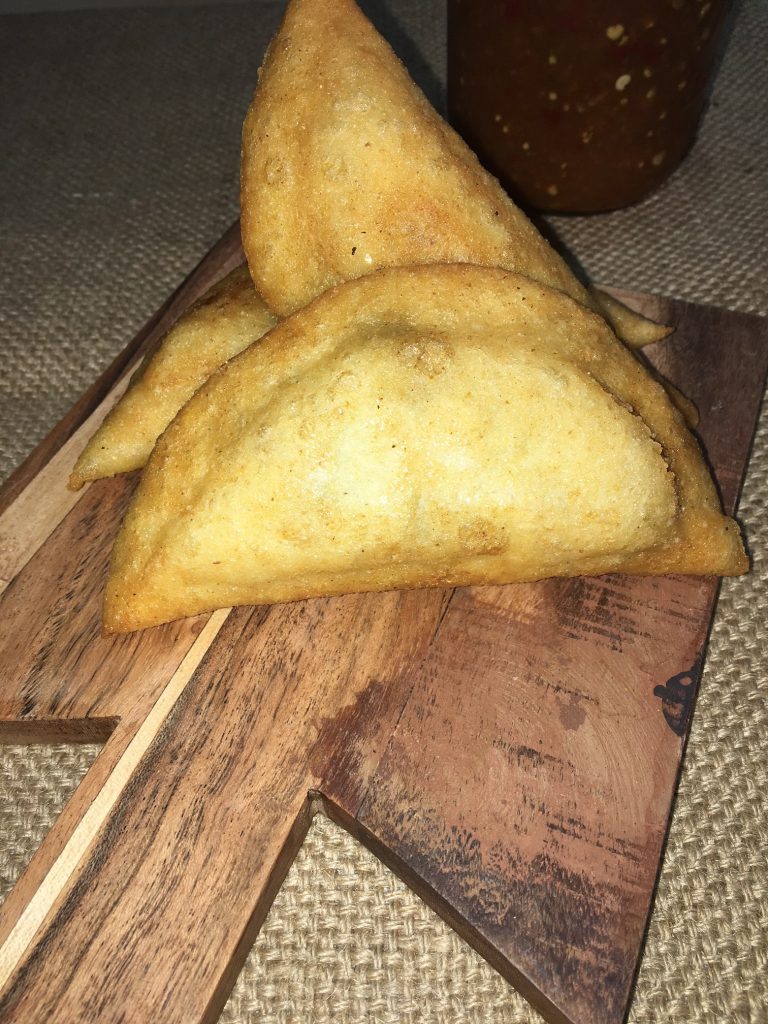 El aroma y sabor venezolano como estremece nuestros corazones .
Ingredients
Beef Filling
1 pound lean ground beef
1 onion, small diced
2 tomatoes, small diced
1 red pepper or green, small diced
2 cloves of garlic, chopped
1 teaspoon oregano, ground
1 teaspoon cinnamon, ground
1 teaspoon cumin, ground
1 teaspoon salt
1 teaspoon pepper
1 Tablespoon Olive oil
1 bay leave
1 Tablespoon ketchup
Empanada Dough
3 cups of Arepa Flour (white corn flour)
1 teaspoon salt
1/4 teaspoon sugar
1/2 to 1 cup of warm water
Canola or Vegetable Oil (for frying)
Preparation for Filling:
Heat olive oil at medium heat in a large skillet, and add ground beef. Brown beef until completely cooked.
Add onions, and peppers. Cook until soft. Lower heat  and add tomatoes, oregano, cinnamon, cumin, salt and pepper.
Stir all together, add bay leave and cook for 15 to 20 minutes. Add ketchup. If filling is too dense add 1/3 cup of water.
Simmer for about 10 more minutes. Set aside.
Making Empanadas Dough:
In a large bowl place arepas flour, salt,  sugar and mix all together.
Add warm water slowly by mixing with your hands until all is well combined and dough is soft.
Let dough rest by covering it with a clean cloth for about half an hour.
To Prepare and cook Empanadas
Place plastic wrap over a cutting board, secure board with a wet cloth underneath and place it over your kitchen counter.
Make a dough ball with your hands and flatten your dough on top of plastic wrap.
Place meat filling on the center of dough.
Grab one side of plastic wrap, and fold over the other side.
With the tip of a butter knife shape your half moon (empanada) over the plastic wrap.
Remove plastic wrap and discard excess of dough. Set aside.
Continue shaping your empanadas. Place over a dish and cover with wet napkins until ready to fry.
Fry empanadas in a large pot with half way up filled with vegetable oil for about 2 to 3 minutes on each side.
Place empanadas over paper towel to take away excess oil. Enjoy next to your favorite hot sauce. One of our best favorites family recipe.Yum!