A HEALTHY MEAL PLAN, ENTREES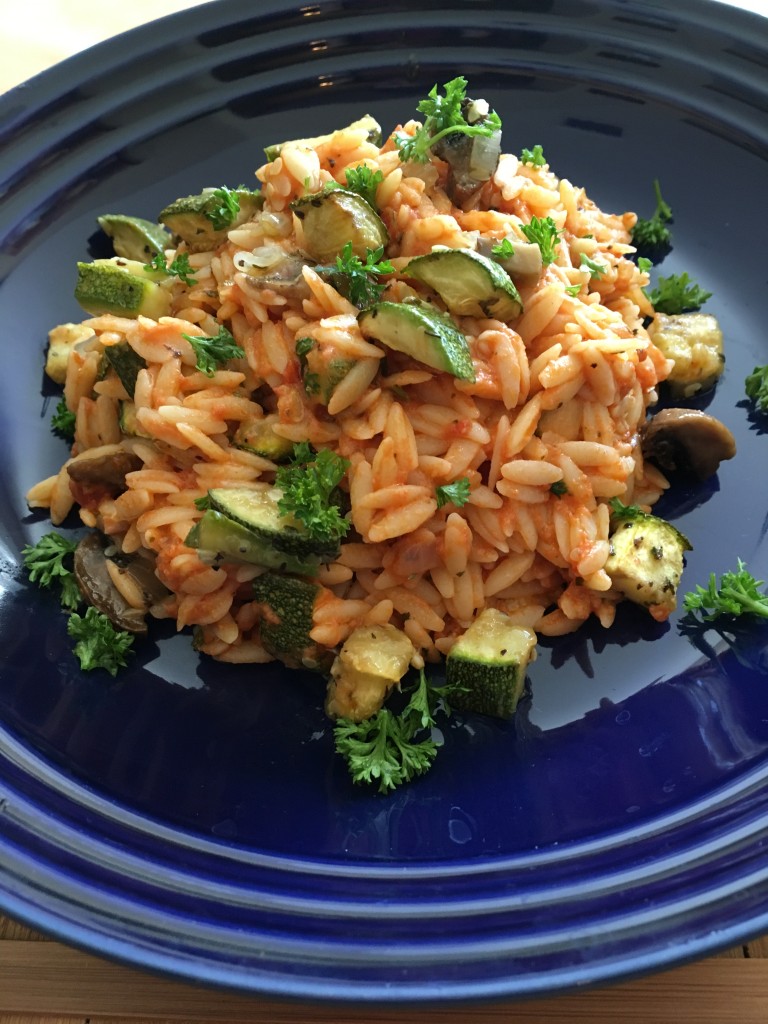 "Super light and delicious as a main dish and also great as a side dish, with healthy grilled zucchini and mushrooms in a homemade Marinara Sauce."
Ingredients for Zucchini Orzo
12 ounces uncooked orzo pasta
2 Tablespoon extra virgin olive oil
1 Vidalia onion, small diced
3 zucchinis, small diced
1 teaspoon dried basil
1 cup mushrooms, small diced
1/4 teaspoon salt
1/4 teaspoon pepper
Preparation
1. Bring water to boil over high heat. Stir in orzo pasta and cooked uncovered for about 10 to 12 minutes. Drain well.
2.Heat oven at 375 grade Fahrenheit and roast zucchini, onions, and mushrooms. Drizzle with olive oil . Sprinkle with salt, pepper and dried basil.
3. Roast until tender for about 30 to 35 minutes.
4. Remove from oven and set aside.
Ingredients for a simple Marinara Sauce
1 (14.5 ounce) can crushed tomatoes
2 Tablespoon tomato paste
1 teaspoon oregano
1 teaspoon dried basil
1/2 cup parsley, chopped
2 cloves garlic, minced
1/4 white wine
1/4 teaspoon salt
1/4 teaspoon pepper
2 Tablespoon extra virgin olive oil
1 teaspoon butter
Preparation
1. In a large skilled over medium heat, sauté garlic and parsley in olive oil and butter for about 2 minutes. Add crushed tomatoes, salt, pepper, oregano and tomato paste stirring occasionally.
2. When it starts to simmer, lower heat and add white wine.
3. Simmer for about 25 minutes until wine is evaporated.
4. Add Marinara Sauce over cooked Orzo Pasta and Roasted Vegetables and mix all ingredients together. Add fresh parsley on top. Enjoy warm or at room temperature.